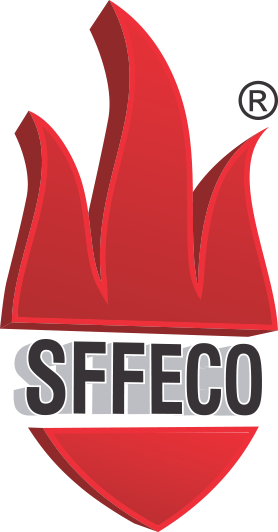 For any interests or questions regarding SFFECO products & services, please click below.
Send Enquiry
SFFECO 1230 Clean Agent Suppression System
SFFECO 1230 Suppression System is a breakthrough and revolutionary product in the firefighting industry. The system uses Chemori-FK5112 Fire Suppression Agent which is UL Listed and FM Certified.
Cylinder Range: 38 lbs to 850 lbs
UL Certified system using UL & FM Suppression Agent
Available in Pneumatic, Mechanical and Electrical Actuation
1230 Clean Agent is completely colorless and is electrically non-conductive fluid chemical known as fulroketon, FK-5-1-12. It is a sustainable technology and is here to stay. 1230 Clean Agent has Zero ozone depletion impact and has extremely low global warming potential with a short atmospheric lifetime.
ABOUT SFFECO 1230 CLEAN AGENT SUPPRESSION SYSTEM
Chemori-FK5112 is a ground-breaking innovation in the firefighting and safety industry and comes with 20 Years Blue Sky℠ warranty against regulatory bans. SFFECO 1230 Clean Agent Suppression System comes with a extensive range of filling from 38lbs to 850lbs which can accommodate head valves from 1" to 3" range. The head valves are specifically designed and engineered to be actuated electrically, pneumatically or mechanically making it suitable for various design applications.
SFFECO 1230 Clean Agent Suppression System is UL 2166 Certified, FM 5600 Listed and is compliant with NFPA 2001, NFPA 70/72, EPA, DOT 4BW500. SFFECO 1230 Suppression System is the only one across the MENA Region to have UL Certified and FM Listed Chemori-FK5112 Fire Suppression System.
| Part No: | | SF 1230-038 | SF 1230-065 | SF 1230-130 | SF 1230-277 | SF 1230-395 | SF 1230-850 |
| --- | --- | --- | --- | --- | --- | --- | --- |
| Cylinder Size | lbs | 38.00 | 65.00 | 130.00 | 277.00 | 395.00 | 850.00 |
| Volume | 3ft | 0.51 | 0.87 | 1.73 | 3.70 | 5.25 | 12.20 |
Feature
No Residue
Cost Effective
Non-Toxic
Rapid Acting
Eco-Friendly
Short Atmospheric Life
Zero Ozone Depletion
Global Warming Safe
Applications
Server Rooms
Oil & Gas
Petrleoum
Heritage Sites
Laboratories
Museums